Whatever your development requirements are, you are in safe hands with SCOPE.
OVERVIEW
THERAPEUTIC AREAS
SCOPE International has a proven track record in managing all major indications in clinical phases II – IV, including pediatric trials, orphan drugs and medical devices, non-interventional studies (NIS) and post-authorization studies. With our close relationships with leading investigators and Key Opinion Leaders worldwide, we deliver the highest quality solutions.
Our patient recruitment, site management and extensive support strategies are specially adapted to the specific therapeutic areas and clinical development stages of your product. With our expertise and experience, we can make sure that your trial runs as efficiently as possible, meeting all regulatory standards while ensuring consistent quality.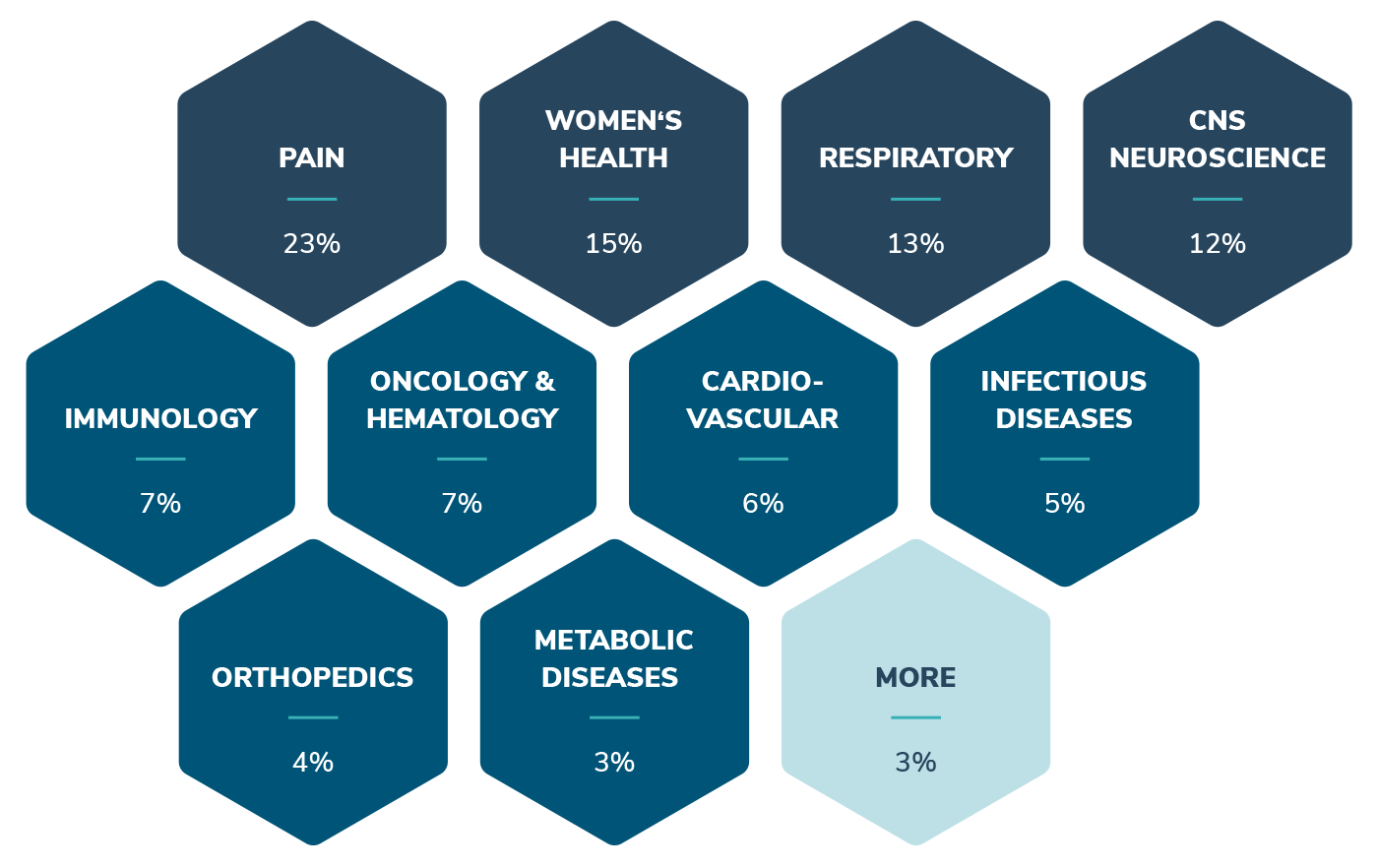 Pain




(e.g. bladder-pain syndrome, cancer pain, chronic and acute pain, fibromyalgia, low back pain, migraine, musculoskeletal pain, neuropathic pain, pelvic pain, post-surgical pain)

Gynecology

 

Women's Health

(e.g. assisted reproductive technology (ICSI, IVF), contraception, endometriosis, fibroids, hormone replacement therapies, hysterectomy, obstetrics (preterm labor), postmenopausal complaints)

Respiratory

(e.g. asthma, CAP and HAP, COPD, infectious diseases)

Central nervous system

(e.g. bipolar disorder, epilepsy, multiple sclerosis, Parkinson's disease)

Immunology

(e.g. allergy, vaccination)

Oncology and Haematology

(e.g. Non-Hodgkin lymphoma, various-solid tumor diseases, e.g. of the bladder, breast, colorectal cancer, prostate, Schwannoma)

Cardiovascular diseases

(e.g. hypertension and myocardial infarction, pulmonary arterial hypertension)

Infectious diseases

(e.g. angina, COVID-19, hepatitis B, HIV, intra-abdominal infection, pneumonia, rabies, and other bacterial/ viral infections)

Orthopedics
(e.g. cartilage defects, osteoarthritis)


Metabol

ic dis

eases


(e.g. diabetes, type 1)
Inflammatory diseases
(e.g. rheumatoid arthritis and polymyalgia rheumatica)

Dermatology
(e.g. alopecia areata, hypertrophic scars, psoriasis)

Orphan indications
(e.g. idiopathic sudden sensorineural hearing loss)

Endocrinology
(e.g. diabetes, hormone deficiencies, metabolism)

Gastroenterology

 

Ophthalmology


(e.g. conjunctivitis, retinopathy)




 

Otorhinolaryngology and hearing disorders

(e.g. idiopathic sudden sensorineural hearing loss, rhinitis, sudden deafness, Schwannoma)

Hepatology


Urology


(e.g. bladder cancer, bladder pain syndrome, prostate cancer, renal cancer)




 

Dental & Oral Health

 

Vaccination


(e.g. Hepatitis B, influenza, rabies, tuberculosis)



Many indications including pediatric populations