New Managing Director

for North American Operations
SCOPE International AG is pleased to announce the appointment of Amy O'Sullivan as the new Managing Director of its North American subsidiary, based in Pittsburgh, Pennsylvania. Guiding SCOPE's business in our fastest growing market, Amy will take over an essential part of our strategic development and leading a growing team.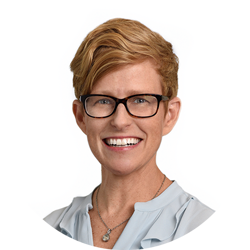 Amy is a board-registered nurse with bachelor's degrees in both chemistry and nursing. With more than a decade of experience in clinical research across varied and complex indications, she has a proven track record of leading and motivating national and international teams to deliver quality projects on time. She has solid skills in the field of project management, clinical operation and strategic planning experience at the site, sponsor, and CRO setting. Her indications experience includes hematology, oncology, nephrology, cardiology, women's health, neurology, and pain.
Amy has grown with the company and seamlessly steps into the role of leading SCOPE International's North American operations.
"

I am excited to head SCOPE International's US office and am looking forward to expanding our clinical research services in the North American market.
"
Our experienced local US team will give you regulatory support during pre-IND, IDE, de novo, and other formal meetings, as well as scientific advice with the FDA. Our experts will accompany your complete submission process in the US and Canada. SCOPE's Pittsburgh office covers 25 US states, Toronto and Montreal, while other US states along with the Mexico and Puerto Rico regions are covered by strategic satellite offices in the South, Southwest, Pacific Northwest and Western regions of the US.